How Big is the Market for Valet Trash Services?
Accelerated Waste Solutions franchise makes a difference at the doorstep
According to CNBC, there are more people renting now than at any time since 1965 – and this trend isn't going to slow down anytime soon. With nearly 40 million people living in apartments, or about 20% of the total population, the National Apartment Association reports that America needs 4.6 million new apartments by 2030 or it will face a shortage.
For savvy entrepreneurs, the question becomes: what do the millions of people living in apartment complexes do with their trash?
For over 20,000+ apartment doorsteps across the nation, Accelerated Waste Solutions is the brand that answers this question. As one of the leaders in valet trash services, AWS excels at giving renters an exceptional service, and providing property management companies with a significant revenue stream.
Millions of people across the nation experience doorstep trash collection every single night, says Fred Tomlin, CEO and co-founder of AWS. The people that don't have it yet just don't know what they're missing out on. The service is a win-win for renters and property managers.
Property management companies get to have one of the number one service amenities for apartment complex rentals in the country, as well as grow their net operating income for implementing the services.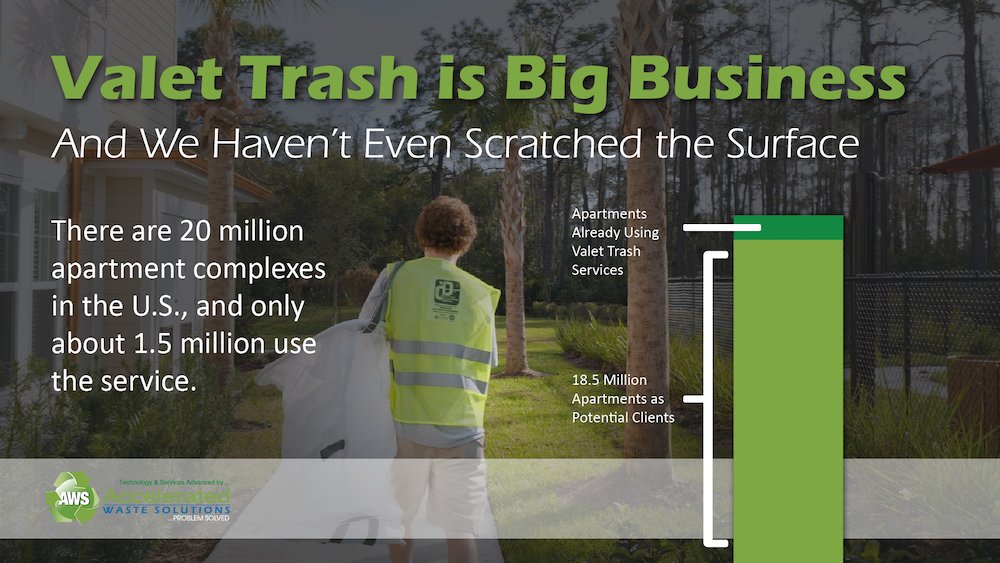 Why do apartment residents love trash valet services?
Trash valet, or concierge trash as it is also referred to, is a huge benefit for residents for a myriad of reasons. The first is the convenience factor – residents don't have to schlep their garbage to a dumpster. They simply have to place their trash outside of their doorstep into a bin that AWS provides, and we pick it up. This eliminates leaky trash bags causing a stink in common areas, and removes the threat of any unsightly litter when a trash bag breaks. It also greatly reduces one more thing that a busy individual has to keep track of and thereby prevents garbage piling up in an apartment.
It's also far better for the environment. The National Apartment Association published a report entitled, Valet Trash Can Bring Efficiency to Sorting, Hauling, that discovered valet trash services are more successful at recycling than individuals are:
Valet service workers are trained and knowledgeable about recycling stream etiquette, the organization writes. They collect trash in clear bags, those bags are brought to the appropriate containers, ripped open and then materials are placed inside, accordingly. The plastic bags are then disposed of in the trash. This offsets residents unfortunate choice of using plastic bags that are not recyclable (typically those distributed by grocery stores), made of the material that can jam the recycling sorting equipment.
It's also affordable. According to Property Manager Insider, valet services can cost the resident up to $35 a month, and this service is typically built in to the lease.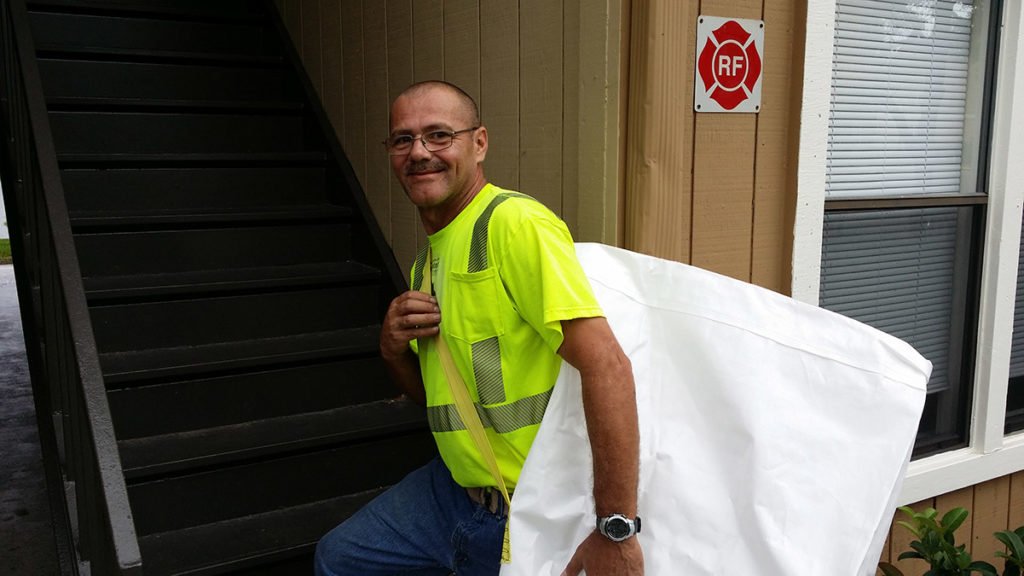 Why do property management companies love valet trash?
Property management companies love valet trash services for two reasons: 1) it makes their lives significantly easier by making their properties cleaner and their residents happier, and 2) they make a substantial amount of money by providing the service.
According to Property Manager Insider, the costs they spend on hiring AWS to perform the service is transferred to the resident in the lease agreement. The income that this yields is significant:
Consider a 200 unit property contracted for $12 per unit per month.
The property manager pays $2,400 per month for the service
Residents are required by their lease to pay $25 per month for the service
Property managers collect $5,000 per month from residents
Property managers make $2,600 per month off their residents trash!
A property manager with a 1,000 unit portfolio could earn $13,000 per month off their residents  trash. This is over $150,000 annually. Since it came onto the scene in the last decade, valet trash has exploded in use as a result of the financial impact it can have for property managers.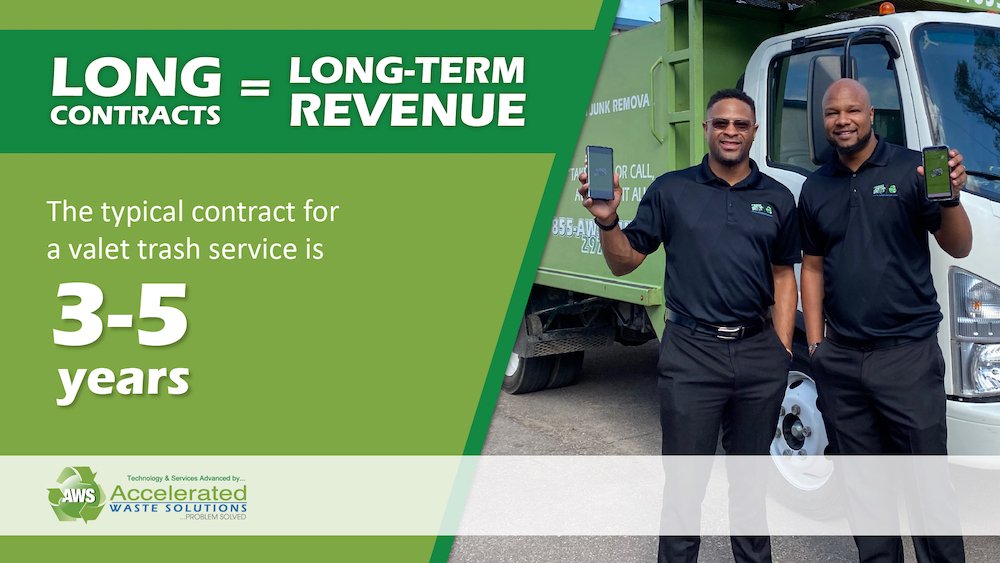 A valet trash franchise is big business
AWS makes valet trash easy for property management companies with our Doorstep Details App software, which provides documentation of the entire process. Our Doorstep Details app allows our Trash Porters to create detailed reports, or Doorstep Details Reports, that shows our customers where and when our attendants are on the property with GPS tracking, and before and after photos. This results in delivering peace of mind that other companies simply cannot compete with.
Our service also includes ways for the resident to enjoy the service as well:
5-Day Per Week Service
NO COST Waste Receptacles
NO COST Recycling Bins for Residents
Daily Breezeway & Compactor Cleaning
Service Notification Door Hangers
Detailed Activity Reports with Photos & GPS Information
FREE RESIDENT APPRECIATION DAY
This results in long-term contracts that can yield substantial recurring revenue streams for our franchise owners.
This is a great business to be in, Tomlin says. The profit-potential is unlimited, and because it requires part-time labor, it's high-margin business that has recurring revenue streams. We call it mailbox money, so to speak, because you know you can expect to be paid once you have a contract in place…It's the rare win, win, win for us, apartment complexes, and residents alike.
Ready to take advantage of our valet trash franchise opportunity?
After more than a decade flourishing in business, AWS is now opening our doors to franchising for the first time. The total cost to franchise with Accelerated Waste Solutions ranges from $127,200 – $247,100. To learn more about owning a valet trash services franchise, fill out a form on this site and begin a conversation. We can't wait to hear from you!