Why Junk Shot Trash Hauling Stands Out
Accelerated Waste Solutions Excels in Junk Removal Services
While Accelerated Waste Solutions waste franchise specializes in valet trash services for apartment residents, we also specialize in hauling their junk away. Because we service apartment complexes daily, we know that the Bulk Furniture Removal Area or Furniture Dumpster on the premises gets full on a regular basis, and property management companies would prefer to deal with one company to perform both services especially if its a company that they already trust.
This is why we created Junk Shot, a business designed to capitalize on a need that every property management company needs to get done the right way.
In the $53 billion waste collection services industry, Junk Shot stands out:
Our trucks are the largest in the industry
We have a patented app that makes the entire process transparent
Better Pricing
30-Day Invoicing
We recycle 60% of our junk
The Junk Shot business can be a significant source of revenue for our franchise owners, says Sherrod Hunter, COO and co-founder of AWS. This is a service that property managers are going to need again and again, and because our service offering is better than our competitors, it gets very, very sticky. Property managers don't want to waste time dealing with many companies when they can deal with one that they know does what they say they're going to do. We've been successful in every market we've expanded into, and now were in 20 states. We know from experience that the demand is there and that you can build a great business with junk removal.
Our patented app makes Junk Shot easy to do business with
Property management companies have enough on their plate: they often have to deal with the needs of hundreds of residents at once. When it comes time to make sure that their dumpsters are getting emptied, they want to deal with a company that they can trust.
The Junk Shot app, the only bulk/junk removal smartphone application available in the United States, makes establishing trust incredibly easy. Here is what we provide to our customers:
A quote before we arrive on the premises
GPS-date/time stamped before & after photos
Arrival & departure times of bulk/junk removal services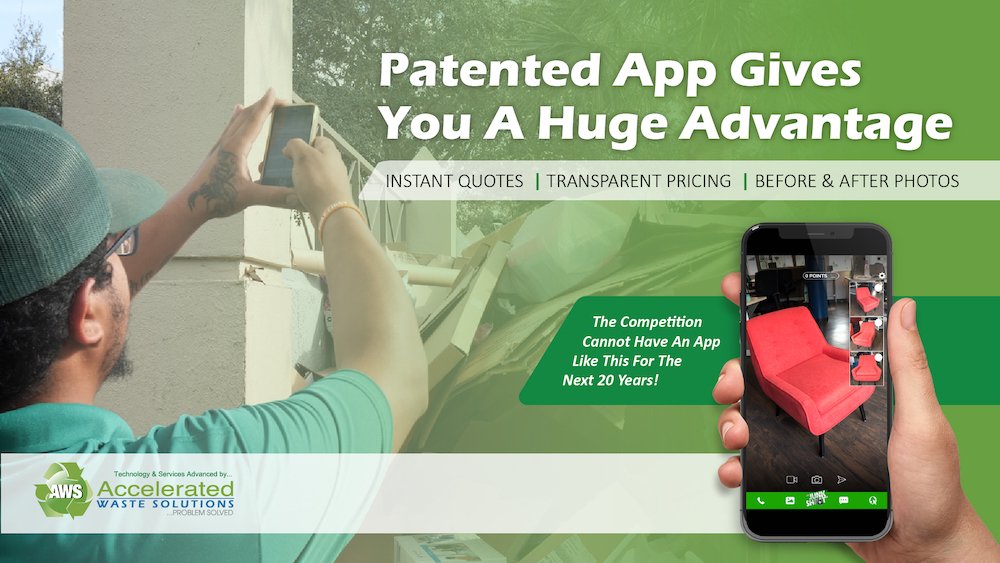 We document every part of our process, Hunter says. We want to make sure that our customers know when we were there, what the dumpster looked like before we arrived, and what it looked like after we left. We do the same for our trucks, because we charge by the space the junk takes up in the truck, we want our customers to know we're not overcharging them, which is common in this industry, unfortunately. We also go above and beyond, cleaning up the area around the dumpster so that it's pristine when we leave.
Property managers also don't want their trained maintenance employees wasting valuable time loading a furniture dumpster.
If you have a skilled laborer wasting their time with a roll-off dumpster, it can be a real morale killer, Hunter says. They're professional people with a lot of work to do for residents, and they hate dealing with trash. We're more than happy to do it for them, and that's another advantage in hiring us.
Residential and commercial properties need Junk Shot
Americans create an enormous amount of trash. According to the U.S. Geological Survey, the amount of trash generated in the United States each year has risen from 88 million tons to 250 million tons since 1960. The same report says at the same time, the per capita amount of trash generated each day, by each person, has risen from 2.68 pounds to 4.43 pounds.
Every time you see a dumpster: when a construction company is working on a new development, when a home flipper is working on a project, when a building is renovated, or when a business goes out of business, just to name a few examples – this is when Junk Shot can spring into action.
If you think about a storage unit, as an example, they might have 200 units that are always being loaded into and unloaded out of, Hunter says. They're going to need us again and again. When a business moves out of one office space and into another, they don't want to hire an unsightly roll-off dumpster, they're going to want to hire us and they do. We show up on time, we're professional and we're there and gone on the same day.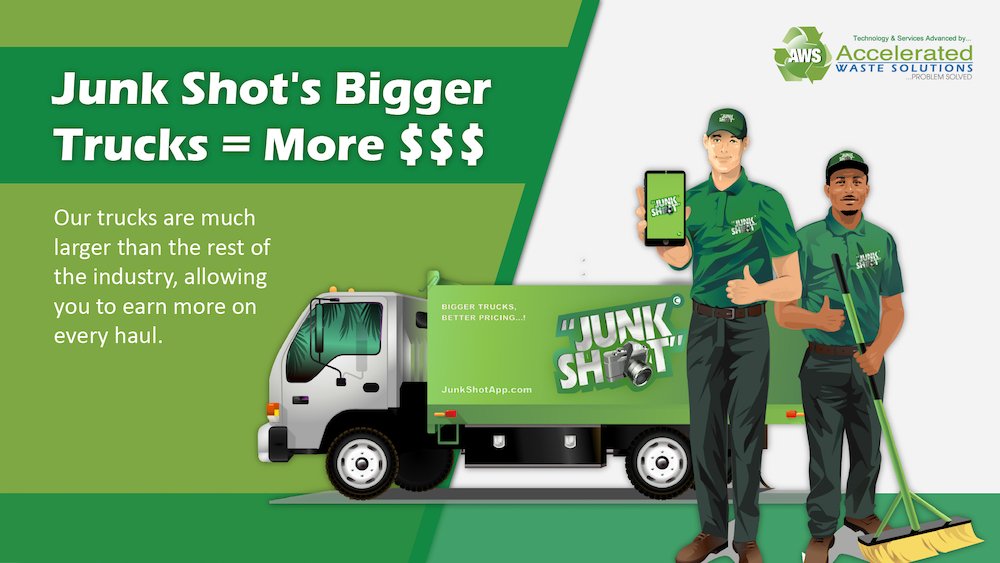 Not only are we cheaper than renting a roll-off dumpster, we're better for the environment as well. We take pains to recycle everything that we can, which is a tremendous selling point at a time when Climate Change is at the forefront of everyone's mind.
We care about what happens to the trash after we haul it away, Hunter says. We train our employees on what is recyclable and what isn't, and we make sure that the customer knows that this is something we're passionate about. Its tremendous selling point for us.
Ready to Own an Accelerated Waste Solutions Waste Franchise?
After more than a decade flourishing in business, AWS is now opening our doors to franchising for the first time. The total cost to franchise with Accelerated Waste Solutions waste franchise ranges from $127,200 – $247,100. To learn more about owning a valet trash services franchise, fill out a form on this site and begin a conversation. We can't wait to hear from you!