Good Cynt's Disposal Inc, Cynthia's Transition from the Corporate Ladder into Franchise Ownership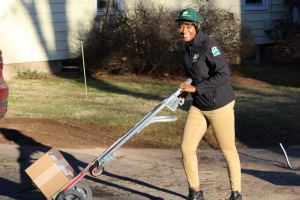 Cynthia and I belong to the Financial Executives Networking Group (FENG) and connected in June 2020 at the start of her job search after her department was outsourced at the start of the pandemic. As a FENG member for 18 years, I typically reach out to new members to see if I can help in their transition. In our first conversation, Cynthia mentioned that she had an itch to own a business and had some colleagues and friends who are in executive roles and ran businesses on the side. She seemed intrigued to explore the possibilities. Here is Cynthia's story:
Please tell our audience about your career and what brought you to think about owning a business?
I have had a strong 25-year career climbing the corporate ladder in Accounting, Audit, and Internal Audit. I finally got my dream role (so I thought) as a Chief Audit Executive (CAE), and I quickly realized that it wasn't what I thought it would be. But I was SO busy that I couldn't even think about what to do next. I just kept my head down and worked. I got through my Year 1 as a publicly-traded organization successfully with no material misstatements and a glowing review from the company's external auditor. The next month, my department was suddenly outsourced. It was clear that doing a good job didn't matter. The political environment of being an executive was new to me and it seemed that I wasn't very good at it. It was a blow to my spirit.
Do you recall our first meeting? Tell us about what triggered your first step into the research process?
Yes, I absolutely do remember our first meeting. The funny thing about our first conversation was that it wasn't about franchising at all but about what I was planning to do next in my career. This was the first time ever since I graduated college that I would have to 'search' for a job and I was very anxious and nervous about what was to come. The pandemic was going strong in the NY Metro area and very limited job opportunities were available. I have always wanted to have my own business and have tried a time or two in my younger years. So, when I saw you were a franchise consultant, I thought it couldn't hurt to ask and find out more.
We looked at several industries and franchises, we looked at beauty, finance, health and wellness, staffing, and waste management. What were some industry and business model characteristics that narrowed the field down to Waste Management and Accelerated Waste Solutions (AWS)?
You may not know this, but when you shared the AWS pitch with me, I thought I would just be 'nice' and watch. I didn't think it would be a fit for me at all! But the more I watched, the more intrigued I became. The pandemic has changed the way we all look at business and what is possible. So many of the typical franchises and businesses were negatively affected and could not operate or their operations were limited during this uncertain time. One thing that didn't change was the need to properly get rid of trash. When I met with Sherrod and Fred, they had a very clear business plan and have run a very successful business for over 10 years in Florida. I put on my risk hat (as all auditors do) and grilled them with questions about the business, and they had an answer for everything!

I recall that you were concerned that it may be difficult to do both – run an audit department with your teams on different continents and develop this franchise. What got you past that hurdle?
The conversation with Sherrod and Fred sealed the deal. The backend support and the application technology provided by AWS were the game changers for me. They were able to show me examples of how they operate their remote locations as semi-absentee owners, which made the picture crystal clear to me that I could do the same. I even reached out to some of my most cynical colleagues and asked them for help to find holes in the business plan and the pros always outweigh the cons.
Were there other elements about the business model, the leadership, your market that helped you decide to move forward?
Yes, first was that the services that AWS provides, I would buy as a consumer. I have searched for bulk trash services in the past and found limited options in my area. And as a person that purchases items to make my life more convenient, if my building offered valet trash service, I would happily buy it. Even more of a reason not to leave my apartment! Second, the AWS team was so warm and welcoming. They wanted to make sure that I felt comfortable and was willing to let me speak to several members of their team to understand how it operates and how the pieces come together. And lastly, my area feels ripe for this type of opportunity. The NYC metro area has tons of high rises that could benefit from both bulk trash removal and valet trash services.
Did you have help in determining how to finance your Accelerated Waste Solutions territory and did you seek legal counsel so that you understood the franchise agreement?
Yes, and yes, I know from my years in business that not having enough capital is the number one reason many new businesses fail, and I was concerned about going into debt to fund this venture. Remember, at the start of this I had recently lost my job. I didn't get a job offer until about a month into the process. Financing this would be my final hurdle. I was referred to Guidant Financial and they spent over an hour with me going over my options and thoroughly explaining each one to me. They provided written details and well as videos for me to view to help it all sink in. Even now, after my business has been funded, they call to check in to see how things are going and if I have any questions. They also advised strongly to hire a franchise attorney. It took some work, but I finally found someone that specialized in franchises and she was also amazing in making sure I understood what I was agreeing to. It took a few weeks of redlines but we finally got to a point that worked well for everyone.
Can you give our audience some encouraging words about the process of finding that right franchise?
The process may take longer for you than it did for me, but you have to make sure that you find the right one for you to be committed to and passionate about. You have to be dedicated and focus to make it work. This can't be something you do as a whim or an afterthought. Right now, as I ramp up to my opening, I am in essence working two full-time jobs. But I can see the possibilities and I know I have to put in the work to see it through. I expect this to be my life for a little while, but I am more than willing to do it. I am now betting on me so that I know my hard is appreciated and I don't ever get outsourced again!
If you are ready to invest in an Accelerated Waste Solutions franchise like Cynthia, head to our website and fill out a request form, or give us a call!