How Much Can You Make in a Valet Trash Business?
Accelerated Waste Solutions is a rapidly growing valet trash franchise with proven profit-potential and superior technology
For the millions of people that live in apartment complexes, valet trash is rapidly becoming a way of life. Not only are new apartment complexes being built with valet trash services in mind, existing apartment complexes cannot add the service fast enough.
It costs property owners and management companies nothing to add the service, but their gains are enormous. They pass the charges of the service onto their tenants as part of their lease agreement, and the tenants love it because it makes their lives overwhelmingly easier. Not only does it prevent people from schlepping their garbage to a dumper in the rain, the heat, the frigid cold, but it also prevents tenants from missing their garbage being picked up, and creates a much cleaner and safer environment for all. And of course, it?s a cash cow for the owners and property management companies.
This is why the valet trash service has become such an attractive segment for entrepreneurs. And while the segment is booming, not all valet trash franchise opportunities are equal. Accelerated Waste Solutions is the rising star of the industry, and there are many reasons why our franchise opportunity should be at the top of the heap.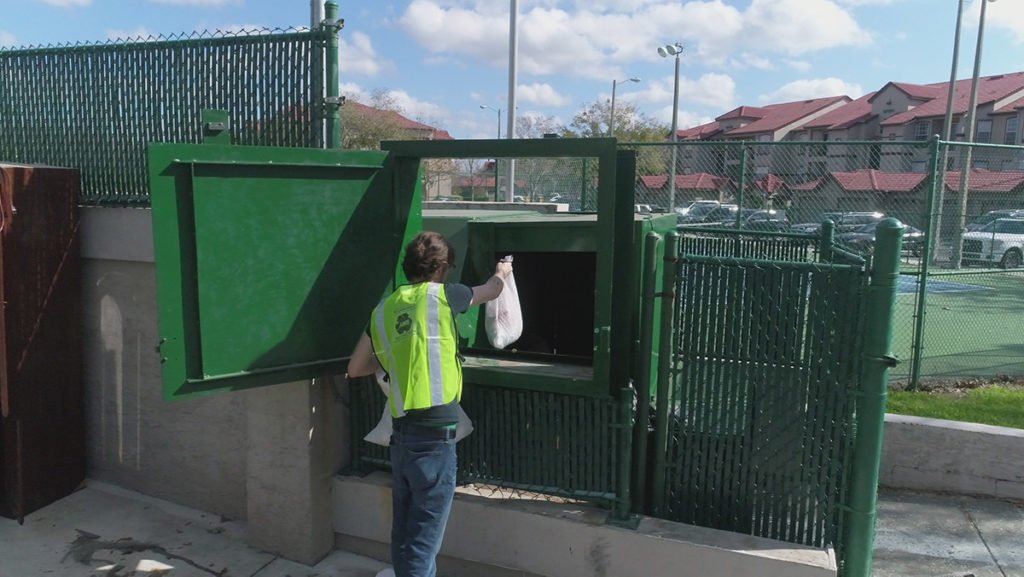 No one can equal our technology
When AWS was founded more than 10 years ago, we knew that technology had to be at the forefront of our business model. This is why we created our own proprietary app, which makes it easy for our clients to understand the value of our work, and thereby build lasting relationships that are rewarded with long-term contracts.?
Our app allows our clients to see exactly when we?re on the premises, who is picking up the trash, which tenants have been serviced, and much more. This thorough documentation extends to our franchise owners, who can manage their employees, as well as send online quotes, bill clients, and more. With AWS, our technology makes it easy to run and scale a powerful business.
?We provide a service that is a win-win-win,? says Fred Tomlin, CEO and co-founder of AWS. ?It?s a win for the resident who wants the convenience of the service, a win for the property management company who gets to offer a top-rated service amenity while also making a significant source of additional revenue, and it?s a win for our franchise owners, who earn years of recurring revenue. This makes valet trash services extremely easy to sell, and we?ve discovered that if we do a good job, we can help a customer for years and years, which creates a lot of revenue that we can rely on as we continue to grow our business.?
AWS is two businesses in one
The other side of collecting trash from apartment complexes is the removal of the trash from the dumpster. Rather than allow another company to clean out the dumpsters, AWS makes life easier for property management companies by doing both. We collect the trash, and we haul it away.?
The Junk Shot side of our business allows a comprehensive approach to valet trash removal that our competitors cannot equal. Once again, we?ve developed a patented app that documents the entire process, including before and after photos, provides quotes, billing, and takes the guesswork out of running a valet trash business.?
?We make it extremely easy for property management companies to work with us,? says Sherrod Hunter, COO & co-founder of AWS. ?We?ve built a patented app that makes billing easy, as well as documents the entire process to ensure that our customers understand what they?re getting billed for. We take photos of the truck when it?s empty and when it?s full, and we do the same for the furniture removal area, which makes for a transparent billing process that is seamless. Our customers really appreciate this, and often reward our junk removal services with as much loyalty as our long-term contracts. Doing business with us time and time again.?
AWS is an affordable business to own
Owning a valet trash business doesn?t have to break the bank. In fact, AWS is one of the most affordable franchise opportunities in the valet trash segment.
The total cost to franchise with Accelerated Waste Solutions ranges from $134,054 to $273,700. This cost includes both the Doorstep Details and Junk Shot businesses, and covers the entire cost of equipment, use of our proprietary technology, patented apps, franchise support and more. AWS offers generous territories of up to 250,000 people or 7,000 apartment complexes to ensure that you have the population necessary to own a thriving valet trash and junk hauling business.
?We?ve proven that the demand for our services continues to increase,? Hunter says. ?We?ve worked hard to ensure that both businesses, because they?re complimentary, are affordable to entrepreneurs who are ready to start a business that is capable of making an impact. We?re looking for entrepreneurs who are highly-motivated, passionate and possess exceptional leadership skills to join our franchise family. We have the business model, the support infrastructure and the years of experience in growing this business to guide you through the process of growing your business. The time to invest in AWS is now.?
READY TO OPEN AN ACCELERATED WASTE SOLUTIONS FRANCHISE?
To begin a conversation, simply fill out an application on this website or click here to download our free Franchise Information Report. We can?t wait to learn more about you!