Why Valet Trash Removal at Multi-Family Complexes is a Best Bet Franchise Business
Accelerated Waste Solutions is an easy to scale junk removal franchise in the booming waste collection services industry
In 10 years, Accelerated Waste Solutions has become one of the rising stars of the valet trash and junk removal industries, and now serves more than 10,000 apartment complexes throughout 20 states. How did we do it? By not only proving our business model is both profitable and easy-to-scale, but also developing sharp branding, best practices and implementing state-of-the-art apps that empowers our customers.
During recent times, demand for our services skyrocketed as most of the country was safe at home, highlighting the huge need for apartment valet and bulk trash removal.
The best part? Owning a valet trash service franchise is big business. According to the Environmental Protection Agency, the average American produces about four pounds of trash daily and more than 1,300 pounds of trash each year. Even better, there are nearly 40 million Americans who live in apartment complexes and many of them do not want to leave their comfortable space, and walk their heavy trash bags down to the dumpster.?
It should come as no surprise then that valet trash and junk removal has become one of the fastest-growing segments of the $53 billion waste collection services industry. This is why AWS is now seeking entrepreneurs who want to take control of their own destiny and gain financial independence as we expand across the nation.?
?Now is the best time to invest in an AWS franchise,? says Fred Tomlin, CEO and co-founder of AWS. ?The services that we provide are a win-win-win: for us, the renters, and property management companies. Property managers get to offer a service that residents have come to expect, while growing their net operating income at the same time. Over the last decade in business, we?ve proven that this is a great business to be in. It?s simple to run, quick to scale, and the recurring revenue streams means that it has the potential for long-term growth. We cannot wait for entrepreneurs to join our franchise family as we become the premier valet trash services franchise in the nation.?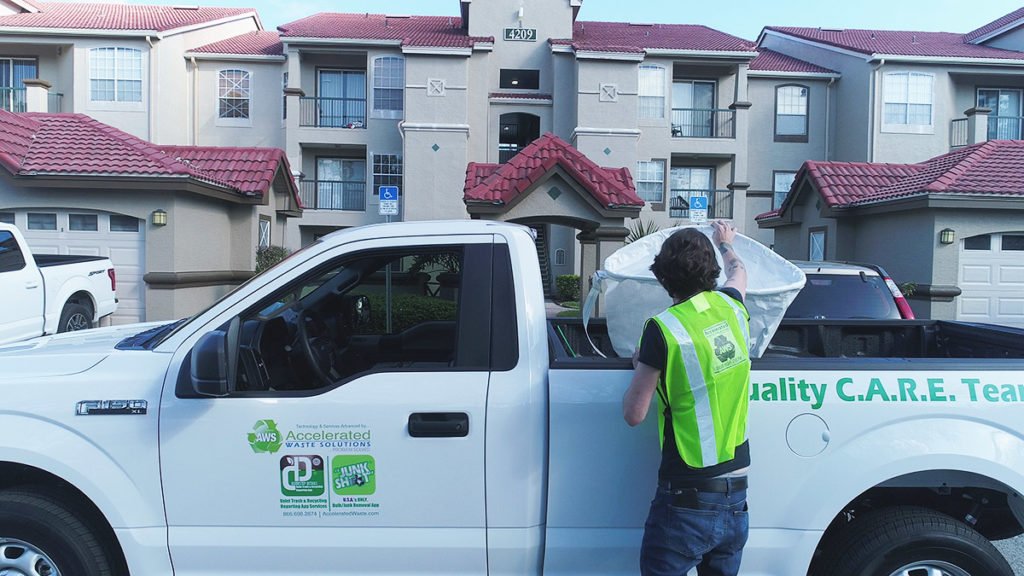 How Will Accelerated Waste Solutions Support You In Business?
As an AWS franchise owner, you will never be alone in business. Moreover, you?ll quickly come to learn that our rapidly expanding valet trash franchise always shows that we C.A.R.E. This means that when it comes to our business, we are unmatched in the industry when it comes to customer service and convenience, affordability, reliability and are environmentally responsible.?
At AWS, we have your back. This starts with our visionary founders, Fred Tomlin and Sherrod Hunter, who are active in this business on a daily basis, and permeates throughout our executive team and franchise system. This means that our franchise owners have access to endless support from everyone at our national headquarters who will mentor, coach and provide them with the resources they need to thrive. Whether it?s training, marketing, hiring and retaining the right employees, to building relationships with property management companies and more, we will all work on your behalf to ensure you grow your business.
?The people in our organization are some of the most passionate, intelligent and thoughtful people I?ve ever come across,? says Tomlin. ?They?re a big part of the reason why our brand has grown over the last 10 years, and they will be a tremendous asset to our franchise owners. Everyone here knows that they?re working for something bigger than themselves, and we want our franchise owners to share in that feeling. This is an incredible brand to be a part of, and we?re ready for explosive growth in the years to come.?
READY TO OPEN AN ACCELERATED WASTE SOLUTIONS FRANCHISE?
To begin a conversation, simply fill out an application on this website or click here to download our free Franchise Information Report. We can?t wait to learn more about you!